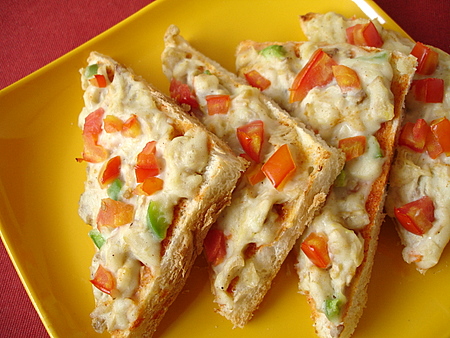 Ingredients:
5 bread slices
few tbsps mustard paste or chilli tomato sauce
1/2 cup cooked shredded chicken
3 tbsps grated cheese
dried herbs (optional)
few tbsps chopped tomato (remove pulp)
For sauce:
1 tbsp butter
1 tbsp maida/all purpose flour
1/2 cup low fat milk
few tbsps chopped capsicums
salt to taste
pepper to taste
pinch of dried herbs of your choice
1 Wash chicken pieces, boil with a cup of water, salt and pepper till the chicken cooks. Debone and shred it.
2 Prepare the white sauce by melting butter in a heavy bottomed vessel. Add maida and stir on low to medium flame for 2-3 mts. Add the chopped capsicums and stir for half a mt. Remove from heat and add the milk slowly while stirring constantly.
3 Return to heat and cook stirring continuously till it turns thick. Add salt and pepper to taste. Remove from heat, add 2 tbsps grated cheese and combine. Add the shredded chicken to the sauce along with dried herbs and combine.
4 Spread mustard paste or chilli tomato sauce to each bread slice. Spread the cheesy chicken mixture, sprinkle grated cheese and few tomato pieces.
5 Grill in a hot oven for 8 mts or till lightly browned.