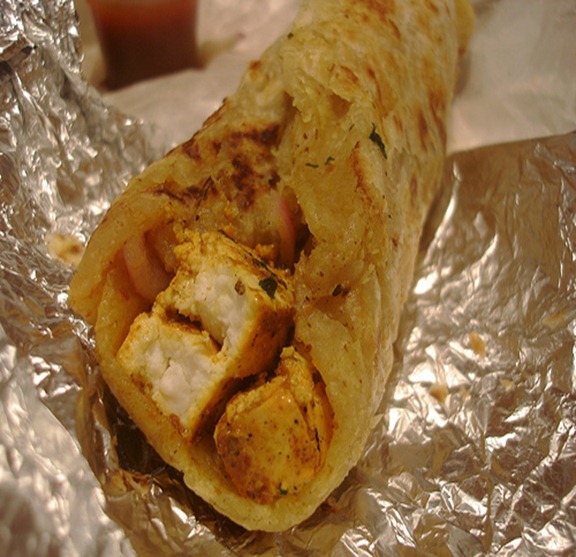 Ingredients Of Chicken Roll

300 gm boneless chicken, 1 inch cubes
3 tbsp yogurt, beaten
1/2 tsp turmeric powder
Salt to taste
1/2 tsp all spices (garam masala)
1 tbsp red chili powder
1/2 bunch fresh coriander
2 tbsp oil
For Parathas
1 cup flour
1 cup white flour
Salt to taste
2 tbsp ghee
Water as required
For Chutney
1/2 bunch coriander
4 green chilies
1 onion
1/2 bunch mint leaves
1 tomato
1 tbsp crushed red chili
Salt to taste
1/2 cup tamarind paste
Cooking Method Of Chicken Roll
Marinate chicken boneless pieces in yogurt, salt, turmeric and chili powder, all spices. Mix it and set it aside for 15 minutes. Add green coriander leaves in it.
Now heat the oil and cook marinated chicken in it on low heat till the water dries and chicken become soft and tender.
Method Of Parathas
Take both flours and add ghee and salt in it. Knead it in a dough and put it aside for 1 hour. Make round parathas with the help of rolling pin and grease the pan and cook the parathas.
Method Of Chutney
Grind all ingredients of chutney with very little water in grinder. Chutney should be thick in consistency.
Now take paratha and put boneless chicken in it. Pour chutney on it and roll it. Cut the roll from center and serve hot with salad of your choice…enjoy